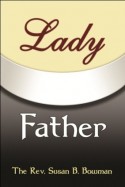 Welcome to my world! I'm Susan Bowman, ordained Episcopal priest better known in some circles as "the Lady Father." In fact, my memoir, which was published in May 2011, is called "Lady Father" because it chronicles my struggles with the ordination process in a diocese that had historically been solidly against women in the ordained ministry of the church. Our Bishop in 1980 was the Rt. Rev. C. Charles Vaché, a longtime opponent of women in any kind of leadership position in the church. He was beginning to soften his stance as he had not only allowed women to serve the chalice at the Eucharist, but had licensed a woman to be the interim Priest at a large parish in Virginia Beach.
Enter Susan Bowman, enthusiastic and much-loved lay youth minister who was feeling a strong call from God to do more than keep business signs from encroaching on the City of Petersburg's rights-of-way (she had been serving as the Zoning Administrator since 1977). Amazingly, the Bishop allowed me to enter seminary as a lay ministry student and, when it became clear to me that I was called to the Priesthood, he graciously and firmly granted me entrance into the ordination track of the Diocese's ministry training. This action caused quite a stir from the exuberance of most of the teenagers in the Diocese and my circle of friends and colleagues to the utter despair and horror, along with anger and hostility of the more traditional members.
You can read more about the book (click here) or you can read the entire story in "Lady Father," for sale on this site as well as on Amazon.com and Barnesandnoble.com.
You can hear me hold forth on everything from Halloween to gay Bishops every Saturday afternoon at 3:00 pm on BlogTalkRadio.com. With my co-host Jenny O, I share some of my reflections on "life" as well as excerpts from the book. We welcome call-ins and some day hope to be reaching many, many people through cyber radio.
================================================
Since I have been preaching for more than 30 years, I believe I have reached the place where "when I speak, people listen." At least when I get in a pulpit or when I face a congregation with a prayer book in my hand, I actually command silence (well, almost). I've done a lot of other public speaking, such as keynote addresses, retreats, and even some theological conversations with various people. It can be heady sometimes, but I am still constantly amazed that people really are listening to me and figure it has to be God doing that for sure!
Since publishing my memoir, Lady Father, I have felt a strong call from God to continue "speaking" to his church and so I have formed a new ministry, "Lady Father Speaks," and am available for public speaking engagements as well as retreats (Vestry/Parish retreats, youth retreats, spiritual retreats, and a retreat that I have put together called "Journey With God." My journey into priesthood and since has been a journey with God; in fact, I have learned that God IS in the journey so that, unless we recognize God's presence in our lives, we end up doing our own thing and not very well. We also miss the incredible things God does when we let him have free rein. My retreat is designed to help retreatants to find God's presence in their own journeys. I provide all meditations, worship, and music, as well as any personal discussions as needed. If you are interested in a retreat for yourself or a group, please contact me at revsusan@ladyfather.
* * * * * * * * * * * * * * * * * * * *
In my Freelance Writing, I have met a new friend. He started out as a client who hired me to write a book for him – watch for it! We became fast friends and he and I both saw the advantage of working together to quote both my book and a series of books from their site. He introduced me to his boss who has a great website and we have traded links. Here is a great banner for a great site. Just click on the banner to go to Me-Universe.org.