My name is Susan Bowman and I am an ordained Episcopal priest. After 23 years, I have retired from full-time parish ministry with a medium-sized pension so I have a "day job" – an Auto Travel Counselor for AAA where I get to help our members plan trips, make them TripTiks, and just basic Customer Service.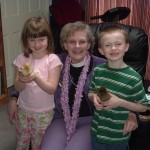 I am also a Grandmother, with 2 adorable grandchildren – Jared, age 14 and Emily, age 12 – my most favorite pastime is spending time with them; unfortunately, to do that on any kind of regular basis, I have to make that extra money. I am trying my hand at freelance writing and have discovered a hidden talent.
A born and bred Virginian, I grew up in Petersburg – in Southside Virginia. My mother and father were self-employed – my Dad a trained professional public accountant and my Mom a very competent assistant who worked with Dad so she could have some flexibility while we were growing up. My older sister, my younger brother, and I were fortunate to be raised by parents who loved us, encouraged us, provided us with top-notch education opportunities, and basically taught us to be honest, hard-working, and just dysfunctional enough to provide us with enough personal issues to keep us busy in therapy.
My sister and I both attended the College of William & Mary (she from 1961-1965 and I followed from 1965-1969). I majored in Philosophy (or "Just-get-a-diploma-I'm-getting-married") because it only required 27 hours of course work, which left me with lots of time to take a wide variety of other courses thus providing me with a more liberal arts education. I took courses like Computer Programming, Anthropology and, my personal favorite, The History of Fashion. Laugh if you want, these courses rounded out my education nicely while salvaging my bargain basement level GPA.
====================================================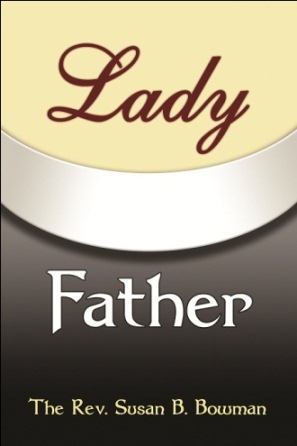 Here's the main result of my new writing career:
"Lady Father" is a narrative account of my journey through the ordination process in the Episcopal Diocese of Southern Virginia of the 1980's and the subsequent years of ordained ministry. As the first female admitted to the ordination process by the Rt. Rev. C. Charles Vaché, seventh Bishop of Southern Virginia, who was then a strong and vocal opponent of the ordination of women, I was a "reluctant pioneer." Dubbed "the Lady Father," I have served the church for 25 years and I am now offering my experiences and the insights I learned from them to others who feel a similar call and who may find themselves on a similar journey "against the flow." "Lady Father" is filled with anecdotes that will ring true with many clergy, bring hope to those aspiring to ordination, and shed light on the continuing debate in the Church over who should be ordained. "The Process" described in the book is a journey most clergy have traveled, but my story is a unique blend of the obstacles, denials, and rejections I faced and overcame, along with the uplifting moments and spiritual growth that came out of the struggle. It is truthful and so, at times, it is painful; it is often light-hearted, even humorous; it is moving as it deals with real people, real events, and real emotions; and, most of all, it is mine – my story, my journey, my life.
Get an Autographed Copy Now!

If you are using a credit card,
Just click here to go to the Lady Father page
where you can purchase the book.
Instructions for non-credit card users:
If you don't like "hi-tech" email me at revsusan@ladyfather.com,
call me at 518-512-3700 OR 518-330-9750 OR send a check to:
Susan Bowman
16B Mansion Blvd
Delmar, NY 12054
The Book=$15.95; NY State Sales Tax=$1.28; Shipping=$2.50
Here are the options if you are sending in a check:
Out-of-State $15.95 + 2.50 = $18.45 per book
NY – No shipping $15.95 + $1.28 = $17.23 per book
NY – Shipping $15.95 + $1.28 + $2.50 = 19.73 per book

Thank You and I hope you enjoy "Lady Father."
=====================================================
More on "Lady Father" . . .
I have been an Episcopal priest for 25 years and my journey through the ordination process is legendary in the Diocese of Southern Virginia. I was ordained by a bishop who, for many years, did not believe that women should be in any leadership position in the church – lay or ordained. I was ordained in a Diocese that elected that bishop on the strength of his opposition to the ordination of women. I was ordained for a church which was struggling with the issue of who should and should not be ordained – well, some things just never change.
My experiences as an ordained woman are a mixed bag of satisfying and fulfilling moments as well as agonizing and painful ones. I was adored and hated, extolled and maligned, trusted and questioned at every turn. I was appreciated for my gifts and accepted for my shortcomings by many while my gifts were ignored and my shortcomings were accented and publicly denounced by others. I was yelled at, accused, and castigated for "trying to steal money from the church" because I dared to suggest a reasonable salary package and when I defended my original package from attempts to decrease my benefits. As I have pondered and assessed these experiences, it is clear to me that I would not have been treated as I was if I had been a man.
I was also accepted by many as a priest with no regard to my gender and I know that I made a difference in the lives of many faithful Episcopalians. I continue to hear from people to whom I have ministered over the years and I now minister to a tiny group of United Methodists in upstate New York who love me and treat me like a pastor – period. They never yell at me, rarely criticize me, and they don't complain behind my back (mainly because they just don't do that but also because I told them that I would leave immediately if they did!). I have been hurt too many times by the "closet complainers" and I am not willing to be the object of such secretive and destructive behavior in the church ever again. I have truly found my niche in my semi-retirement and, as I have reflected on my ministry, I have discovered a strength that almost always comes from adversity along with a burning desire to share my experiences with other women (and men!) who may be facing the same or similar treatment as an ordained person or anyone facing discrimination in the church or any place.
I want desperately to help anyone who finds themselves the object of such unconscionable treatment to deal with it, rise above it, overcome it, and process it. My negative experiences no longer control my life and I would love to help others come to this point. I have written this book on my experiences in the ordination process and in parish ministry as a woman in a male-dominated field in the 80's, 90's, and into the 21st century. Fill out the contact form for my newsletter "Ring Around the Collar" which will include updates on future publications after the launch of "Lady Father. That just means that I'll never stop writing and that I already have other writings you may be interested in – so subscribe today!" Thank you for your interest and if you haven't decided to buy my book yet, now's the time!
Blessings,
Susan Bowman+ "Lady Father"
=====================================================
Lady Father is a part of SB UNLIMITED, my DBA "Doing Business As" name and my official company name. I guess you could call me a "conglomerate" since I have multiple websites:
www.ladyfather.com – this site for my first published book – "Lady Father" – a memoir now available on this site – and a retail store for religious/spiritual gifts for friends and loved ones.
www.bookemsusan.com – my travel agency site where you can find great trips or contact me for a consultation. I am now a home-based Travel Consultant, so I can find the absolute best prices on every way you want to travel, to wherever you want to go, however you want to get there. My host company has a great deal for church groups who want to take a cruise AND raise money for the church at the same time. Call me at 518-772-4650 if you're interested. Seriously, you can take a grand cruise (I'll plan and organize and even host it if you like) and raise thousands of $$$$$ for your church at the same time.
www.aglowingworld.com – an online retail store for gorgeous stained glass decorative items – everything from a nite light to a window or a firescreen)
Lady Father is also a Professional Freelance Writer/Editor and I can write anything on anything. I have written eBooks and articles on everything from building an outhouse to making your life a success. One client said of the 20 articles I wrote on golf, "I can't believe you don't play golf! These are great – I'd never believe you haven't been playing golf for years!"
If you want something written, just call me (518-512-3700 or 518-330-9750), email me (revsusan@ladyfather.com), call or IM me on Skype (susan.bowman65) and let's talk about what you want and how I can help you. My rates are reasonable – I just love to write!
=======================================================
"Who is Lady Father" (Continued)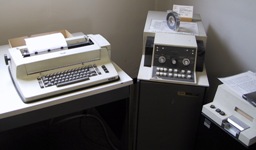 I did indeed get married in the summer before my Senior year and we moved to Atlanta upon graduation, where I got a job working for a company called Balanced Financial Plans, Inc. It wasn't what I had anticipated I would be doing as a graduate of the most difficult college for women to graduate from, but eventually it served me well as I received training on the newest IBM contribution to the burgeoning Word Processor industry.
The MTST (Magnetic Tape Selectric Typewriter – above) and MTSC (Magnetic Tape Selectric Composer for typesetting) were considered "high tech" in the business world so I now realize that I was actually on the "ground floor" of a technological advance that would soon take over the world of written communication. As a BFP Clerk, I produced perfectly formatted, error-free Balanced Financial Plans written and dictated by our financial experts and eventually graduated to producing camera-ready copy for the marketing department.
After we left Atlanta for Pascagoula, Mississippi (don't laugh, my husband was transferred there – it wasn't our choice!), I had even more difficulty finding suitable employment since I was considered "over qualified" for most positions available in a small town in such a depressed area. I finally took work as a waitress until I landed a job preparing a manuscript for publication of a book on building aircraft carriers.
I later did a short stint as an Eligibility Worker for the local Welfare Department (yes, it was still called that), taking applications for Food Stamps, determining and tracking the applicants' eligibility status. I quickly discovered that I was way too compassionate (I was known as a "Softie" in the industry) for social work about the same time I discovered that I was pregnant, so my tenure with the State of Mississippi was short-lived.
After my son was born, we moved back to Atlanta where I worked for an Engineering firm using my expertise on the MTSC and a department store (part-time) until we decided to part ways permanently. We were divorced and my 2-year old son and I "went home" to Petersburg. I landed a unique position, thanks to a good friend who knew the City Engineer was looking for an "Assistant." I quickly got the job and was thrust into my first experience with workplace discrimination.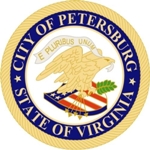 When I met the 2 men who occupied the same pay grade as I did – Engineering Assistant – their disapproval was instantly obvious. They were very unhappy that I, a woman, now carried the same title as they did and I admittedly knew next to nothing about surveying, drafting, and utility construction. They didn't give a whit that the Boss had just used the slot to get himself a coveted assistant like the other division heads in City Hall.
Of course, this man had failed to mention all this to me, leaving me to fend off the angry stares and lewd comments of my fellow "EA's" and to forge my own spot in the office, which also housed the Director of Traffic Engineering (stop lights, etc.), the Director of Public Works (my boss' boss) and 2 aging secretaries. All of them were totally oblivious to the drama unfolding around the 3 drafting tables grouped behind the filing cabinets, which housed the construction plans I was quickly learning how to read.
I survived the abuse and slowly began to actually gain the respect of the guys by not rising to their bait as they attempted to "put me in my proper place" in the division pecking order and by learning everything they threw at me. They figured that if they gave me things that I would fail to do so miserably, I would either get frustrated and leave or that I would get fired for being the incompetent female they knew I was.
These things included a surveying job in the middle of a huge vacant piece of land designated as the site of a new fire station. It sounded like an easy task for us until we arrived at the site, which was about a quarter of a mile off the road, had recently been "leveled," which is a misnomer because the removal of the trees had left it almost impossible to walk through, especially with surveying equipment.

It was cold and wet and I was dressed for going to work in an office in nice shoes (thankfully low-heeled) and a long winter coat hardly suitable for trekking through the mud. I managed to get through the day and even laughed when they pulled the old surveyor's trick on the "new guy" where you get to pull the tape and pull and pull to the corner until the tape is tight and then they let go which deposits you on your butt on the ground so forcefully that you have to be pulled up from the muddy hole made when you landed amid their uproarious laughter.
This was my first experience with such treatment and, I'm proud to say, I passed with flying colors, becoming the first female Engineering Assistant – Level II. Since I was also the last of my breed, I was the only one to be congratulated with a cake and flowers upon promotion and my assignment by the Director of Public Works as the official liaison and Public Relations Officer for the department's numerous public utility construction projects in the annexed areas of the city where the angriest people I've ever met resided. They were angry because they had been annexed, angrier still that their new municipal leaders were forcing them to accept public sewer and water service when they had perfectly good wells and septic tanks (many of these were the same people who had previously called the State Health Department numerous times complaining of their polluted wells and bad water).
I quickly became the "Go-To-Gal" for all issues surrounding these utility projects and after their completion, the utility departments in the City relied on me for line and easement locations since I had personally walked the project sites so many times, I knew them all by heart. I thoroughly enjoyed my new-found position of importance and happily became one of those people who hover over a hole in the road while the traffic sits and the drivers fume and wonder why it takes so many municipal workers to fix a water line.
My call to ministry in the Church came during my tenure with the City of Petersburg and I left municipal employment for seminary at the University of the South's School of Theology in August of 1981. After a successful 3 years, during which I was Student Body President and Class Representative on the Liturgy Committee, I graduated in 1984, in the top 5 of my class with a GPA of 3.75 and a Master of Divinity Degree. The following is a chronological list of events following graduation and the places I have served during my ordained ministry:
Ordained an Episcopal Deacon – February 23, 1985

Ordained an Episcopal Priest – January 25, 1986

Chaplain at Jackson-Feild Home for Girls, Jarratt VA – 1984-1987

Pastor of 3 Episcopal parish churches – 1987-2007

"Retired" in 2007

Presently serve small United Methodist congregation in upstate NY
Over the 20 years of my ministry as a priest, writing became a passion and a way of life as I prepared:
Presentations, retreats, workshops

Weekly sermons
Newsletter articles

Theological treatises & articles
In 2005, I decided that I needed to have a back-up plan for earning money after retirement since I was going to be receiving a modest pension payment. I enrolled in the Penn Foster School of Medical Transcription, struggled through a long at-home study course and received a Diploma in 2007.
Also in 2007, I officially retired from full-time ministry in the Episcopal Church and had to seriously search for full-time employment to supplement that pension I mentioned. I was ready to do something new and different and, after several "must-do" things to make ends meet, I landed a job as an Auto Travel Counselor for AAA in Albany.
It's the perfect "retirement job" for me as I get to route trips for members, maintain their accounts and, best of all, I get to talk to people all day long. Actually, I tell people that I love my job because "I get to take people's money and tell them where to go."
Since retiring, I have become a "Freelancer" – doing Virtual Assistant jobs through an online agency and writing articles and website copy for clients in places like Australia, Puerto Rico, and all over the US. That brings me to today and my newest enterprise – writing an eBook chronicling my experience in the ordination process of the Church and my subsequent ministry assignments. It is a saga of joy and sorrow, wonder and pain as I experienced the ultimate "highs" of acceptance, success, and finally ordination all mixed in with the "lows" of rejection, failure, depression, and teetering on the very doorstep of resignation not only from the ordained ministry but from Church in general.